We love to play, and our clients thank us for it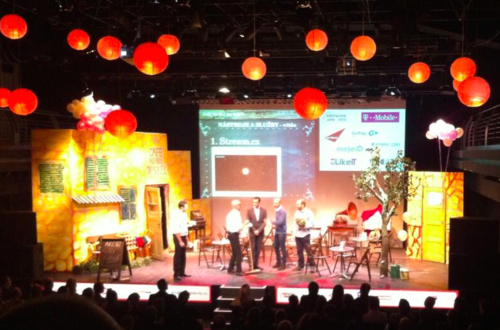 TV + Smartphone = Perfect marriage
What started as a game for one of our christmas parties soon became an idea to develop an on-screen game of football for T-Mobile, showcasing in multiplexes throughout Czech Republic during Euro 2012. No app was needed – just a smartphone, Wi-Fi and the movie-screen, and the game was on.
A similar technology was used in an smartphone-controlled movie we did for GE Money, communicating NFC payment in the most simple and powerful way.
Webcam controlled 3D game?
Peugeot's "Let your body drive" slogan for the new 208 inspired us to create a Czech Republic's first "motion & emotion" controlled website where users controlled speed through a webcam by smiling and steering by the palm of their hands, showing that innovation goes beyond hardware, and interactions users might not be familiar with.
Leap Motion
When leap motion first came out, our developers totally fell in love with it, and so did all chocolate and fashion lovers using our Lindt application at Designblok. First time in Czech Republic!
Philips hue
If you visit our cosy office in Holesovice you might notice that we change the mood lighting through mobile and Philips wireless lighting (http://meethue.com/). By color and intensity we set that perfect ambience for great creative work : ). The same technology was integrated at the award ceremony of "Křištálová Lupa", where hundreds participants could manipulate the lights via their phones, as part of a T-Mobile campaign, partner of that event.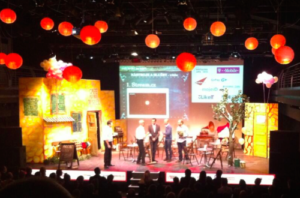 Want to play?
What we are playing with these days? Estimote beacons of course! Check out its total awesomeness (http://estimote.com). Our imagination is the only thing that can set limits to what we can do with it.
We also look forward for September, when MYO, wearable gesture control armband from Thalmiclab arrives at our office (https://www.thalmic.com/).
As you notice we invest a lot of time and money into experimenting with new technologies and love anyone who's curious about and want to play and try new things. That's also the environment we try to create, and so far our clients are thanking us for it.